Rubber compound development, evaluation, and improvement
Casing plunger design/development, manufacturing, testing, evaluation, and field applications
Oilfield rubber and plastic molding industry including tool design, manufacturing processes, and product development
Lone Star Rubber Company was founded by Windel and Sherry Mayfield in 1979. Windel, a West Texas native, got his oilfield start on workover rigs. A graduate of Texas A&M, he has worked at Regal International, Oil States Rubber, and Gates Molded Products. Lone Star Rubber produces custom-designed and -manufactured rubber and plastic parts. In 1999 Windel and partners formed a separate entity, PAL Plungers, to produce a revolutionary new casing plunger. Derek Mayfield, son of Windel and Sherry, joined Lone Star in 2008. Derek is a 2001 graduate of Texas A&M.
Simply put - it's a better design
CASING PLUNGER SEALING CUP
The rubber compound used in molding this cup was developed through years of evaluation in actual field tests on several different styles of casing plungers.
Cup life on these tools has proven to far exceed competitors' cups. The extended life of the cup and its high quality compound formulation provide trouble free operation of the tool, yielding a reduced operating cost. A simple spacer change is all that is required to take advantage of this superior cup. Cup OD is designed to be used in 4 ½" 10.5# casing with other sizes available in the future.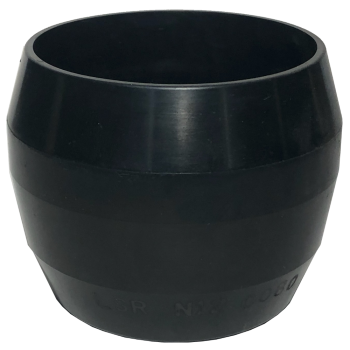 Frequently Asked Questions
Yes. Our cups work on Swab-rite, Jet Star (by Multi Products), and Concoyle plungers. Our cup has an insert length of one inch which requires a change in spacer length. We can give you the necessary length or we can furnish the spacer if you like.
Our cup has been used on many Concoyle plungers with no problems on descent.
Most users report that our cups outlast the OEM cups by a significant amount. Cup life in all casing plunger wells is affected by casing condition, type of fluid being lifted, and amount of fluid lifted in each cycle.
"We have fabricated and produced concoyle tools for many years at our business. Due to the recent shortage of cups in our area, we reached out to Windel Mayfeild at Lonestar Rubber in Texas. Windel, a very fine gentleman, sent a few cups from his company and ever since then, we have purchased many cups and I recommend them very highly. We have put these cups in several of our wells on our concoyles and they have performed extremely well."
"Lone Star Rubber makes the best longest lasting cups I have ever used."
"Windel Mayfield (Lone Star Rubber) was a great help and support for my small R&D company during the years we were involved in the design of a tool for swabbing stripper wells. His knowledge of rubber compounding and mold design proved itself with a product that out performed and out lasted what we received from our other vendors."